OJS moves submissions to the journal through five steps in the editorial process, which will be managed by one or more of the editors.
Unassigned Queue: Items begin here and are assigned to one or more editors.
Submission Review: Items undergo peer review and editorial decision.
Submission Editing: Items undergo copyediting, layout, and proofreading. The submission is assigned to an issue for publication.
Table of Contents: Items are ordered for publication and are published.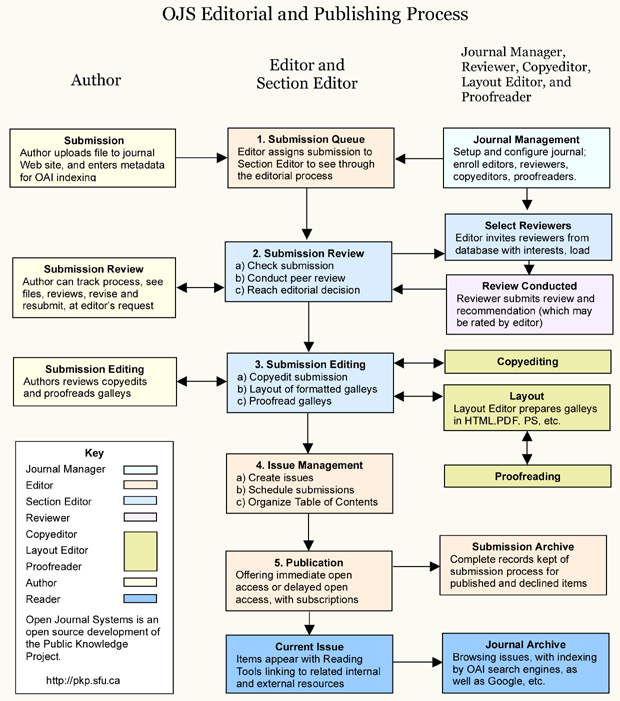 (Assigned in Journal Management)
Journal Manager: Sets up the journal and staffs editorial roles (can also serve as an Editor and other roles).
Editor: Oversees editorial process; can assign submissions to Section Editors to see through Submission Review and Submission Editing; undertakes scheduling of content and publishing of journal.
Section Editor: Oversees Submission Review and possibly Submission Editing for assigned submissions.
Copyeditor: Works with submissions to improve grammar and clarity, poses questions to author on possible errors, and ensures strict adherence to journal's bibliographic and textual style.
Layout Editor: Transforms copyedited submissions into galleys in HTML, PDF, and/or PS files in the proper format for electronic publishing.
Proofreader: Reads galleys for typographic and formatting errors.